50mm Rockwool Dual Density Slab for Insulated Renders - 1200mm x 600mm (pack of 4)
50mm Rockwool Dual Density Slab for Insulated Renders - 1200mm x 600mm (pack of 4)
Thermal Conductivity: 0.036W/mK
Fire Rating (Reaction to Fire): A1(Non-combustible)
50mm Rockwool Dual Density Slab is a specialised dual density rock wool board that can be used for external wall insulation, where the higher density face of the board can take renders directly, while the lover density inner face can accommodate slight imperfections in the fabric of the building. By using these Dual Density boards for your external wall insulation system, you also gain the added benefit of acoustic insulation -- the open porous structure of the rock wool can absorb and reduce the impact of sound, enabling homeowners to enjoy a comfortable, quiet internal environment. Rock wool is made from molten volcanic rocks, a natural material, therefore completely non-combustible. They have achieved a Euroclass rating of A1 for non-combustibility, the highest rating that an insulation material can achieve.
CHARACTERISTICS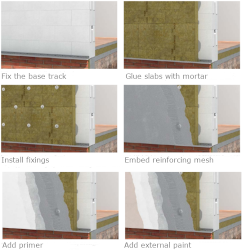 Made from a renewable and naturally occurring resource,
Quick and easy to install,
Fire rated Euroclass A1,
Water resistant,
High vapour resistance - reduces the risk of condensation,
Reduces airborne sound,
Recyclable.

Manufactured environmentally friendly,
Does not contain gases that have ozone depletion potential (ODP) or global warming potential (GWP).

APPLICATION
To take render directly on its higher density face.
CERTIFICATION

Conform to BS EN 13162, ISO 14001:2004, LPCB 022e,
Achieves a reaction to Fire classification of A1, as defined in EN13162