Euroform
Euroform started in 1995 and since then had developed quality products for the construction industry, especially the products for the facades and had earned a solid reputation for innovation, expertise and reliability. Euroform specialises in fire and thermal compliance products for building facades. It had achieved certificates for its products. The high quality Euroform products are available at competitive prices online at Facade Shop.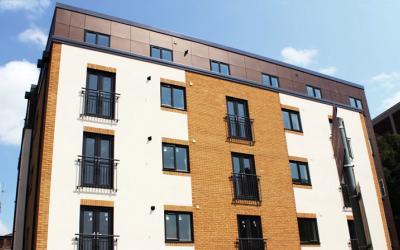 Versapanel is a cement bonded particle board used as an exterior sheathing panel that offers superior mechanical performance compared to other alternatives. Versapanel enables fixing of heavy insulation direct to the sheathing board without expensive fixings. This board can be used above 18 metres because of its higher mechanical strength and without the need for additional and often expensive specialist fixings. This cement bonded particle board is rated Euroclass A2 reaction to fire making it a material of limited combustibility, and at the same time has very good moisture resistance. They can be left open to the elements longer before covering with other elements of the facade. Versapanel delivers exceptional performance in the presence of moisture as cut edges do not require sealing to prevent degradation. Due to relative high density, Versapanel provides a high mass exterior lining to optimise acoustic performance of the building envelope.
Rendaboard is an A1 non-combustible render carrier base board, specifically designed for direct render applications. It is an outstanding product that is non-toxic, contains no hazardous volatiles and is asbestos and formaldehyde free, providing high-impact resistance, excellent dimensional stability, effective acoustic performance and score-and-snap workability. Rendaboard can be used as base board in rainscreen cladding systems. It is resistant to vermin attack, non-toxic under fire, rot resistant and impact resistant.

Showing 1 to 6 of 6 (1 Pages)