Cembrit
Cembrit is one of the leading European manufacturers of multi purpose fibre cement building products. Cembrit Group headquarters are located in Aalborg, Denmark, where all administration and R&D activities are done.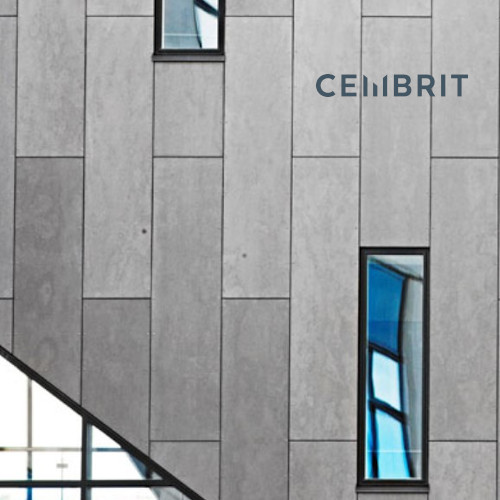 Cembrit manufactures Fibre Cement Boards and Planks, Cladding Panels, Rainscreen Caldding Panels, Slates, Corrugated Sheets which has very high strength, whie being lightweight. The facade cladding sheets has the wood look, but has a longer life than wood.
Cembrit boards are ready painted in a range of colours or primed for on-site finishing and have maximum resistance to exterior exposure ­which is backed by a Cembrit 15-year warranty.
Cembrit's fibre cement decorative rainscreen cladding meets the building's performance requirements and realise the needs for a comfortable, secure environment. Cembrit's large colour range will enable to create smart looking buildings. Complemented with several sheathing board options for the internal skin Cembrit fibre cement cladding are the smart choice.
Fibre cement slate is a lightweight, man-made alternative to wood based material. Cembrit fibre cement products are available in various combinations of edge and surface texture allowing you to create a natural look effect at a lower material cost. Cembrit Fibre cement products give a more natural appearance and is easier to carry, cut and install.​​​​​​​​​​​​​​
Cembrit Cempanel combines the strength of cement with the flexibility of timber, without the weaknesses of wood. Cembrit Cempanel is fire resistant and a good thermal and acoustic insulator. High dimensional tolerances and lack of need of wet trades make Cembrit Cempanel ideal for construction, modular buildings or SIPs. Cempanel is popular as a base board for external wall insulation (EWI) systems.
Cembrit HD (Heavy Duty) is an external building board for construction. It highly weather resistant, so can be used as a fully exposed rainscreen cladding or as a panel, infill, fascia or soffit. The high strength and density make for good impact resistance. Cembrit HD can be pressure washed. Cembrit HD can accept surface coatings without the need for priming.
Cembrit PB - backer board for decorative external finishes is a reinforced, lightweight, cement based board with tapered edges to facilitate invisible butt joint installation. Cembrit PB is approved for use with all leading renders. These boards have reinforced tapered edges which allow fixings close to the board's edges providing a strong and stable base which minimises the risk of cracking of applied finishes. Cembrit PB is resistant to heat and moisture movement.
Showing 1 to 6 of 6 (1 Pages)