8mm Cembrit Cempanel - Cement Particle Board - 2400mm x 1200mm
8mm Cembrit Cempanel - Cement Particle Board - 2400mm x 1200mm
Thermal Conductivity: 0.125W/mK
Fire Rating (Reaction to Fire): B(Class 0)
Fire Protection (Resistance to Fire): 60
8mm Cembrit Cempanel is a strong, durable, impact resistant homogeneous cement particle board for external facade applications that is far superior to timber panels. It combines the strength of cement with the flexibility of wood. The combination of chips and cement creates a board that is stronger but lighter than plasterboard and is arguably less likely to be damaged on site. Cembrit Cempanel is used as the internal skin of the external wall in rainscreen cladding systems. can be painted or left in its natural grey colour. As it is composed of natural materials and would resist rot and fungus. It is an ideal carrier board for insulated render. Cembrit Cempanel combines value for money with environmental awareness, making it ideal for contemporary buildings.

CHARACTERISTICS
Made from a naturally occurring resource,
An excellent eco-friendly substitute for natural wood,
Class "0" cement particle board,

Quick and easy to install,
Easily cut by scribing and breaking,
Water resistant,
Mould and rot resistant,
Nail or screw fixed,
Resistant to changes in heat and moisture,

Can be left exposed,
Can be pressure washed,
Recyclable.

Manufactured environmentally friendly,
Does not contain dangerous additives.

APPLICATION
Steel frame structures,
Timber frame structures,
Ventilated cladding,
Render carrier.
INSTALLATION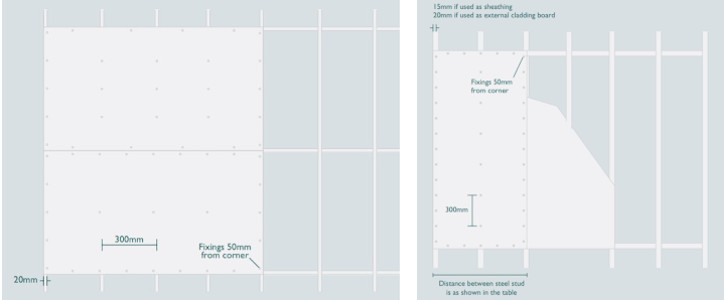 Installation details - Horizontal Installation details - Vertical
CERTIFICATION
Cempanel is classified as Class O material passing the 1 hour and 2 hours fire rating test according to BS 476 Part 6, 7 and 22.
Cempanel conforms with the requirements of BS EN 634-1:1997 Cement-bonded particle boards.