Portland LDF Anthracite Smooth Facade Brick - 290mm x 115mm x 52mm
Portland LDF Anthracite Smooth Facade Brick - 290mm x 115mm x 52mm
290mm x 115mm x 52mm Portland LDF Natural Anthracite Bricks have an unusual Anthracite colour of muted black, a smooth face and are highly resistant to external factors, including water, frost, wind and fire. These clinker bricks are denser, heavier than standard bricks and gives out a metallic sound they make when struck together. They are suitable for both contemporary and traditional projects. Installing hollow bricks is cheaper and are lightweight compared to brick and is a great way to upgrade existing walls and creating exciting facades.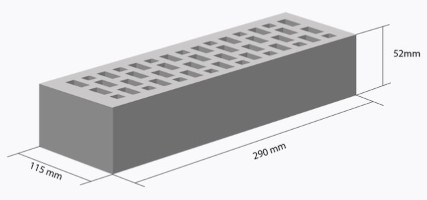 CHARACTERISTICS

Natural look,
Soft muted black colour,
Durable,
Cost-effective,
Easy to handle and install,
Less labour intensive,
Reduce wall thickness,
High frost resistance F2,
Acid resistant,
Alkali resistant,
Reaction to fire Class A1

Low-maintenance.
APPLICATION
On external walls,
On internal walls,
On external wall insulating systems.

INSTALLATION
Ensure that both the surface to install and brick surfaces are dust free and dry.
Mounting bricks should be started at the most visible outside corner.
The grout should be mixed with clean water in a clean container using a high speed shear mixer.
Avoid brushing the brickwork too soon as this may leave brush marks in the mortar.

After completion of the job wash the surface with clean water and a hard bristle brush.
Ensure that staining does not occur.
Cleaning of the grout should not be carried out until the mortar has properly cured.