100mm Kingspan Kooltherm K15 Rainscreen Board - 1200mm x 2400mm - (pack of 3)
100mm Kingspan Kooltherm K15 Rainscreen Board - 1200mm x 2400mm - (pack of 3)
Thermal Conductivity: 0.020W/mK
Compressive Strength: 100kPa
100mm Kingspan Kooltherm K15 Rainscreen Board is a rigid thermoset board with modified phenolic resin insulation core, covered with low emissivity composite foil on both sides. This board used in ventilated cladding applications. The board is environmentally friendly. It should not be used directly behind glazed curtain walls, though.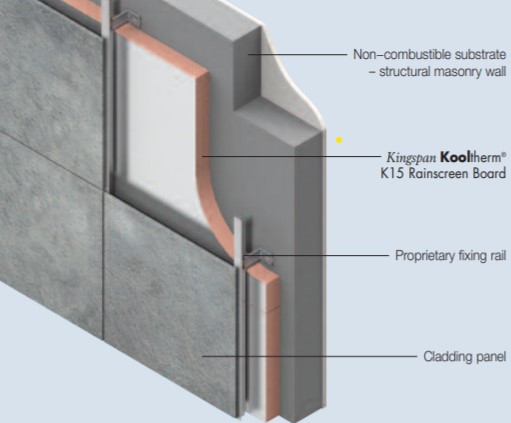 CHARACTERISTICS
Durable, high performance thermoset rigid insulation,
Safe and easy to handle and install,
Non-deleterious material,
Unaffected by air filtration,
Fire rating Euroclass: C-s2,d0
Resistant to mould and microbial growth,
APPLICATION
New build and renovation,
Timber frame structures,
Steel frame structures.
CERTIFICATION

Kooltherm K15 Rainscreen Board is manufactured under a management system certified to:
BS EN ISO 9001: 2015 (Quality Management Systems. Requirements),
BS EN ISO 14001: 2015 (Environmental Management Systems Requirements),
BS OHSAS 18001: 2007 (Health and Safety Management Systems. Requirements.)
Covered by BBA Approval Inspection Testing Certificate No 14/5134