12.5mm Siniat Weather Defence External Sheathing Board - 2400mm x 1200mm
12.5mm Siniat Weather Defence External Sheathing Board - 2400mm x 1200mm
Thermal Conductivity: 0.190W/mK
Fire Rating (Reaction to Fire): A1(Non-combustible)
12.5mm Siniat Weather Defence is a strong, noncombustible external sheathing board that gives superior weather protection and allows the building to be covered for the internal work to begin earlier. The board is made of gypsum and has a patented hydrophobic core and a water resistant face liner. Siniat Weather Defence is specifically designed for steel frame structures, timber frame structures and for steel infill systems. This board can also be used over brick, block, stone surfaces, in rainscreen cladding systems and in insulated render systems. Siniat Weather Defence board is much lighter than cement particle board, can be scored with a sharp knife,easy to carry and install. It is also recyclable. It can eliminate the need for a breather membrane. Thermal insulation can be installed within the frame, mechanically or adhesively to the board. BBA approved for use as an exterior and wall facade panel system in timber-frame and steel-frame buildings.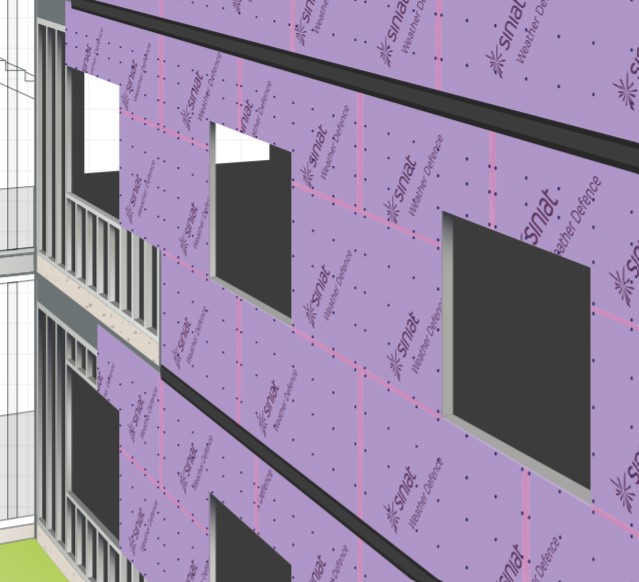 CHARACTERISTICS
Made from a naturally occurring resource,
Quick and easy to install,
Can be scored with a sharp knife,
Fire rated Euroclass A1,
Water resistant,
Mould resistant,
Allows closing the building for for the internal work to begin earlier,
Can be left exposed for up to 3 months on site,
Up to 120 minutes fire resistance,
Recyclable.

Manufactured environmentally friendly,
Does not contain gases that have ozone depletion potential (ODP) or global warming potential (GWP).

APPLICATION
Steel frame structures,
Timber frame structures,
Ventilated cladding,
Insulated render systems.
CERTIFICATION
BBA certified - certificate 14/5083
Siniat Weather Defence manufactured in accordance with management systems certified to:
BS EN ISO 9001: 2008 (quality)
BS EN ISO 14001: 2004 (environment).