12mm RCM Cemboard - Cement Particle Board - 2400mm x 1200mm
12mm RCM Cemboard - Cement Particle Board - 2400mm x 1200mm
Thermal Conductivity: 0.260W/mK
Fire Rating (Reaction to Fire): B(Class 0)
12mm RCM Cemboard is a medium density high performance cement bonded particle board used primarily as an external sheathing or acoustic building board on both metal and timber frame structures. This board offers great strength and stability of cement products with the workability of wood. RCM Cemboard can be cut, drilled and nailed just like wood. Both front and back faces are smooth. It can be used on metal and timber frame structures behind all types of facade solutions, as well as in many acoustic floor and roof constructions. Not suitable for rendering.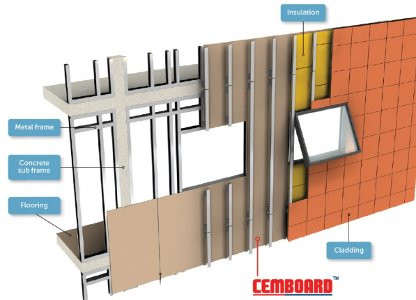 CHARACTERISTICS
Easy to cut, drill and install,
Excellent strength and stability,
Fire rated to EN 13501-1 class B-s1, d0,
Improved fire performance over timber,
High impact resistance,
Good water resistance,
Excellent acoustic properties,
Maintenance-free and cost-effective.

APPLICATION
Sheathing steel frame and timber structures,
Acoustic flooring and roofing,
High impact partitioning,

Shuttering,
CERTIFICATION

Cemboard is tested to BS EN634 Part 1 & 2,
Cemboard conforms to EN13986, EN89/106/EC & EN594.