10mm Cedral Lap Fibre Cement Cladding Board - Woodstain Finishes
10mm Cedral Lap Fibre Cement Cladding Board - Woodstain Finishes
Fire Rating (Reaction to Fire): A2(Limited combustibility)
10mm Cedral Lap with Woodstain Finishe is an attractive, fibre cement cladding board, an alternative to all types of traditional cladding. Cedral Lap is fitted in traditional lapped style and is rot free. Cedral Lap boards are installed to the ventilated rainscreen principle - air can flow in at the base of the system, behind the cladding and then out, over the top of the weatherboard system. This air flow behind the weatherboard enables the system to remove moisture. Available in 2 woodstain finishes. Usage: 1.75 boards per m2. It is advisable to add 5-10% wastage allowance and add extra boards for window reveals depending on reveal depth, when ordering. Other colours are subject to minimum order quantities and extended lead times.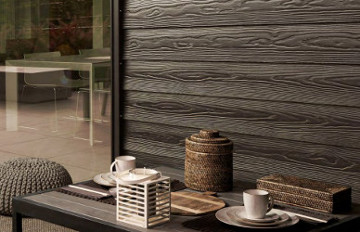 Available in two finishes: timber and smooth textures. Smooth Cedral planks are available in full pallet quantity and extended lead time. Please check by phoning in.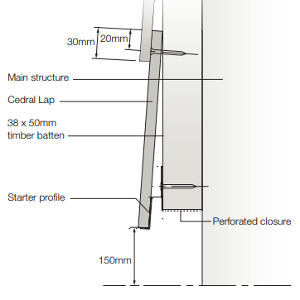 CHARACTERISTICS
Visual appeal of natural timber,
Colour fast,
Easily cut and install,
Stands up to the harshest weather conditions,
Resistant to rot,
Immune to attack by pests and insects,
Low maintenance,
Limited combustibility,
BBA certified,
Installed life expectancy of at least 50 years,
Recyclable.

INSTALLATION
Fix vertical timber battens to wall at 600mm centres. One Cedral plank must have minimum 3 battens.
Fix vertical profiles and horizontal starter profiles.
Allow at least 150mm between bottom edge of the plank and the ground.
Fix Cedral Lap planks. Cut them to size, where necessary.
Place the first Cedral plank onto the starter profile. Ensure that the plank is fixed to every batten it crosses.
The end of every plank must also coincide with a batten.
Overlap the next plank by 30mm.
Each plank must be fixed at least once to every support.
The planks butt jointed against one another and the joint must coincide with a timber support.
The battens should be protected with polythene under the joint.
At corners, the planks could be overlapped, or fixed with a corner profile.
Fix other detailing.

CERTIFICATION

A+ rating in the BREs Green Guide to Specification,

BBA Certificate No. 06/4299